Celebrate Harriet Tubman in the land where she was born in March, unofficially considered Harriet Tubman Month. This was the month she was born here in Dorchester County on Maryland's Eastern Shore. And March 10 is officially Harriet Tubman Day in the United States – commemorating the anniversary of her passing on that day in 1913. Here are a few ideas on how to mark Tubman Month here along the Tubman Byway on Maryland's Eastern Shore.
Harriet Tubman Day at the Tubman Visitor Center
March 11, 10:30am-3:30pm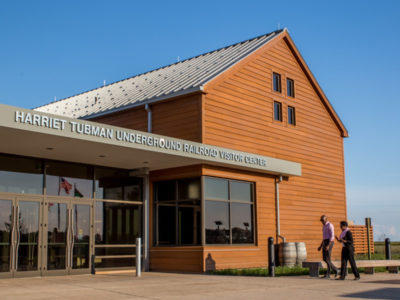 The Harriet Tubman Underground Railroad State Park & Visitor Center hosts its annual Harriet Tubman Day Celebration with programs, activities, and ranger-led talks. Free admission. In Church Creek, Maryland along the Tubman Byway.
10:30am: "Valhalla Voices." Performed by Cambridge-South Dorchester High School students.
11am: From Africa to America: The Advent of Negro Spirituals – Ranger Lawson Nwakudo explores the history of spirituals and how they serve as the cultural undergirding of African American music.
12pm: Tubman's Tree: Harriet Tubman and the Eastern Red Cedar. A ranger shares the role this tree species played in Tubman's life.
1pm: Unknown Maryland Freedom Seekers from the Eastern Shore. Hear the stories of Alexander Helmsley, Moses Viney, and Isaac Mason – some of the lesser known courageous people who escaped slavery.
1pm: Meet Harriet Tubman. Official Griot for the State of Maryland, Janice Curtis Greene interprets Harriet Tubman.
2pm: Visions of Freedom. Watch this film and join in a question-and-answer session.
12-3pm: Family activities include a 12pm reading of the children's book "An Apple for Harriet Tubman," followed by traditional children's games and crafts.
While you're there, don't miss the Harriet Tubman Byway Quilt, which depicts all 45 sites along the byway. It was created by the National African American Quilt Guild. Watch this video for close-up views of each square.
Harriet Tubman Day: Stories at the Sculpture
March 11, 4pm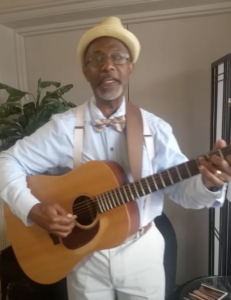 Experience the extraordinary power of storytelling through the narratives of Harriet Tubman's journeys and those who have been inspired by her. To celebrate Harriet Tubman Day, the new Beacon of Hope sculpture in Cambridge, MD (along the Tubman Byway) will be the scene for music, stories and reminiscences that connect, inspire and engage. The program, sponsored by Alpha Genesis Community Development Corp. and the Harriet Tubman Museum and Education Center, is free and open to the public. The location for this occasion is especially appropriate – the new Beacon of Hope sculpture of Harriet Tubman that was just unveiled last fall at the Dorchester County Courthouse, 206 High Street, Cambridge. In case of rain, the event will be held inside at the Harriet Tubman Museum, 424 Race Street, Cambridge.
The schedule features:
Musical Storyteller. Walter Jones, an engaging storyteller and musician, will perform.
Stories in the Stones. Each of the inscribed pavers at the sculpture has a story and a personal connection to Harriet Tubman. Hear first-hand compelling and inspiring tales.
Youth Inspiration. Hear from our next generation, in their own words, as young authors read from their Harriet Tubman-inspired book, Discovering Harriet: Harriet's Journey Home. Students from Dorchester County wrote and illustrated the book.
Take a road trip through Tubman Country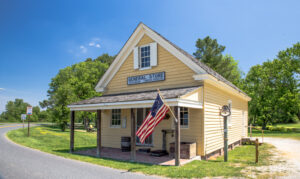 Explore the road trip known as the Harriet Tubman Underground Railroad Byway, which begins in Dorchester County, Maryland – where Harriet Tubman was born – and winds its way to Philadelphia. It encompasses 45 sites, including the Harriet Tubman Underground Railroad Visitor Center and the Harriet Tubman Museum & Educational Center. Don't miss the free audio guide app, with virtual and augmented reality features at some of the sites. Plan your trip.
Combine history and birding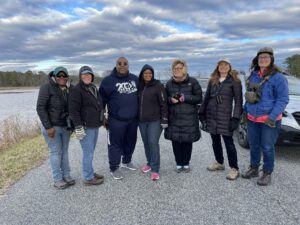 Join a Birding the Tubman Byway tour on Maryland's Eastern Shore, which combines history and nature. During this guided, self-driven tour, you'll learn about the life and times of the famed freedom seeker and human rights activist known as "The Moses of Her People," Harriet Tubman. The route courses through the farms and Chesapeake Bay marshes of Dorchester County, home to Blackwater National Wildlife Refuge and some of the best birding and Bald Eagle watching on America's Eastern Seaboard. Led by Delmarva Birding Weekends and Harriet Tubman Tours.
The next tour date is 1-5pm, March 25, 2023; more dates may be added. Details.
Join a tour or walk
Join a tour of the Tubman Byway with Harriet Tubman Tours. Half-day, full-day, and custom tours available.  Find out more.
Take a guided walk of some of the Tubman Byway sites with the Harriet Tubman Museum & Educational Center. Find out more or call 410-228-0401.